Loosely Bound Zine Extravaganza
on
March 20, 2012
at
6:38 pm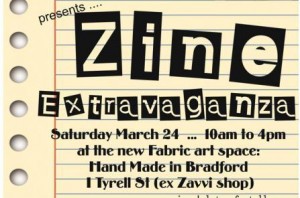 If you've going to be in the vicinity of Bradford this weekend, then pop along to Hand Made where I'll be taking part in the Loosely Bound Zine Extravaganza. I'll be selling copies of my DJ Bogtrotter and Milton's Life collections and maybe even doing some more hand drawn stickers.
The Zine Extravaganza is part of the launch of Fabric's brand new 'Hand Made in Bradford' arts space, and also coincides with the official launch of Bradford City Park just across the road from the space, with lots of events happening. There are more than 25 stallholders taking part so the event promises to be an exciting one.
A full list of the stall holders is available here.
The event is from 10am till 4pm. The address is
Hand Made in Bradford (the old Zavvi shop)
1 Tyrell Street
Bradford
BD1